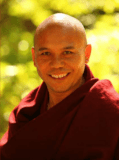 Geshe Gyatso Choekhortshang
In 2015 agreed to become the resident lama in Poland. Geshe permanently lives in our Chamma Ling center in Wilga (near Warsaw) and visits various cities in Poland regularly. Geshe gives lectures about the Bön tradition, teach meditation practices and execute rituals.
Geshe Yungdrung Gyatso was born in the Dolpo region in Nepal in 1980. He met his teacher, His Eminence Yongdzin Tenzin Namdak at the age of 10 and has been learning Sutra, Tantra and Dzogchen in the Triten Norbutse monastery in Kathmandu since that time. He attained the Geshe title in 2008 (the highest title in the monastic education). After graduation, he went into special retreat under the supervision of his teachers. Additionally, he worked as a Medical School director and an editor of the Triten Norbutse magazine "Drepoi Beltam". He also works on the reconstruction of the Tashi Namgyal monastery in his home region of Dolpo. Geshe visited Poland in 2013, giving teachings in Warsaw, Sopot, Gdańsk and Kraków.