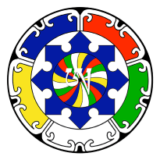 Jarosław Kotas
Email: jahrek@poczta.fm
Phone: 604 630 524
He embarked on the path of Bon in 2002 after meeting his Teacher, Tenzin Wangyal Rinpoche, whose Teachings he fallows countinuosly and doesn't mean to change that in the future. During his 12 years of practice he received many Teachings and essential for Dzogchen practice initiations. He feels a deep connection with the Zhang Zhung Nyen Gyu spoken tradition, Sherab Chamma and among living teachers with His Eminence Yongdzin Tenzin Namdak Rinpoche and Tenzin Wangyal Rinpoche.
Jarek also received Teachings from: Khenpo Tenpa Yungdrung Rinpoche, Chongtul Rinpoche, Nyima Dakpa Rinpoche, His Holiness Lungtok Tenpai Nyima Rinpoche, Menri Lopon Trinley Nyima Rinpoche and Alejandro Chaoul Reicha and many Geshes of Yungdrung Bon tradition. He lives and practices in Wrocław where he's employed as an assistant professor at the Institute of International Studies at the University of Wrocław. In 1997 he received a PhD of international public law at Jagielonian University.
In worldly affairs a big entuisisast of speedway and a dedicated fan of roots reggae. For 2 years he's been performing duties of an instructor in Ligmincha Poland and also works as a translator. He turned 50 in 2014 and hopes to deepen his ties with Bon for ever more.