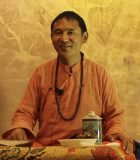 Lama Yungdrung Lodoe is a resident lama of Ligmincha Mexico. A renowned calligrapher and painter, as well as a serious chöd practitioner, he lives at the Great Bön Stupa for World Peace in Valle de Brave, Mexico.
Lama Yungdrung was born in Tenchen, Tibet, in 1978. His father comes from the Lang lineage, which included the king of Tibet in the year 1349. His mother is part of the Black Garuda lineage, said to come down from Kuntu Zangpo, the primordial Buddha.
Lama Yungdrung entered Tondol Ritod Monastery in Chumpo, Tibet at age 9. There, he received training and teachings on rituals, practices and ceremonies for three years, followed by three years of meditating while in retreat in the mountains.
He then studied Tibetan art for three years at the home village of H.E. Yongdzin Lopon Tenzin Namdak Rinpoche, the most senior teacher in the Bön tradition. He also studied thangka painting with master Seregn Yonpal for three years in Chumpo, Tibet and calligraphy and mandala painting with master Are Tenzin for one year in Retod Gompa Monastery in Tibet. At age 26, Lama Yungdrung went to India to study modern art. He was an outstanding student and took top place in art competitions for several times.
Lama Yungdrung also is a master of chöd. He has received all of the instructions, empowerments and transmissions of Khado Sangchod and the great vital points from the chöd yogi master Gar Chime Rinpoche. After many years of practicing Khado Sangchod according to his teacher's instruction, Lama Yungdrung took it upon himself to travel to Rigya (the 108 mountainous places belonging to malevolent spirits). In these settings he gave his body, speech and mind as offerings to pacify all negativities.
In January 2011, Geshe Tenzin Wangyal Rinpoche asked Lama Yungdrung Lodoe to come to Mexico to paint mandalas for the Great Bön Stupa for World Peace at Chamma Ling, Valle de Bravo. First, he began the great Ma Gyü (Bön Mother Tantra) mandala, which is more than eight feet high. The mandala took six months to complete. After that, it took another year for Lama Yungdrung to complete the painting of Sherap Chamma (the Wisdom Loving Mother deity) for the stupa.
He has lived in Valle de Bravo as a resident lama since, working on the stupa and other projects and giving teachings to sangha members both in Valle de Bravo and in other locations in Mexico.