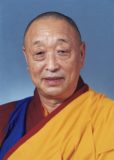 His Holiness Lungtok Tenpai Nyima Rinpoche, the 33rd Menri Trizin, was the first leader of the Bön community in exile in India and the co-founded Menri Monastery in Dolanji, India. He left the body on September 14, 2017, at Menri Monastery in Dolanji.
His Holiness was born in 1929 in the village of Kyongstang in the eastern province of Amdo, Tibet. He became a monk at the age of 8 at Phuntsog Dargye Ling Monastery, entered the dialectic school and received his geshe degree at age 24, specializing in Tibetan medicine, astronomy and astrology.
After leaving Tibet he traveled by foot to Nepal and soon joined others at Samling, a very old Bön monastery in Dolpo, Nepal. Later, he traveled to India to work on a project of reprinting and preserving sacred Bön texts with Lopon Tenzin Namdak Rinpoche and Samten Karmay. He taught Tibetan culture and religion in England under a grant from the Rockefeller Foundation, returned to India at the request of His Holiness the 14th Dalai Lama to found a school in northern India, and taught Tibetan history and religion at the University of Oslo in Norway.
On March 15, 1968, he was selected as the 33rd abbot of Menri Monastery, the spiritual leader of the Bönpo. Many lamas came from Tibet, Nepal and India to give him their initiations and teachings; and for more than a year he trained intensively for his new role. He joined Lopon Tenzin Namdak Rinpoche in rebuilding Menri Monastery in Dolanji, and subsequently in establishing a Bön dialectic school awarding geshe degrees. He also founded an orphanage for Bön children, known as the Bön Children's Welfare Center, at the monastery, and a nearby nunnery.
His Holiness taught a number of times at Ligmincha's Serenity Ridge Retreat Center and elsewhere in the West at the invitation of Geshe Tenzin Wangyal Rinpoche and others. His presence is still with us, but his person is deeply missed.