Geshe Denma Gyaltsen, resident lama of Ligmincha Texas, and Lama Kalsang Nyima, a resident lama for Ligmincha Mexico, are returning to Serenity Ridge to visit, teach and work on various projects for about six weeks, starting the end of May. Please welcome them!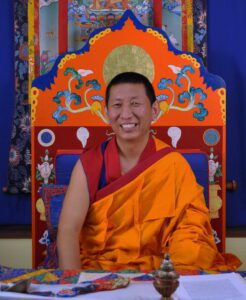 Geshe Denma is set to arrive on May 27, and he will offer a half day teaching on Sunday, May 29, on the Invocation of Yeshe Walmo. This event will be both live, on the lower floor of Kunzang Khang, and on Zoom. We encourage everyone who can come out to see and greet Geshe Denma to come in person. This is a "brown bag" event, so bring a lunch and something to drink, and consider staying after the teaching to have lunch with the other attendees.

Lama Kalsang, will arrive around June 1. He was was Charlottesville, Virginia's first resident  Bön lama.
During their visit, it is hoped that the lamas can meeting students, offering rituals and house blessings, and more, with the support of the local community. If you are interested in supporting Geshe Denma and Lama Kalsang with your time and skills, or by donation, please write to Rob Patzig, Ligmincha International president, at r.patzig@ligmincha.org.
The links to register for the Yeshe Walmo teaching, both for in-person at Serenity Ridge and on Zoom, are below.  links to register. If you plan to attend in person, please note the Covid policy as outlined on the registration page.
Serenity Ridge registration link
Online registration link 
Discount code to attend the online teaching for $20 for those attending the Summer Retreat with Tenzin Wangyal Rinpoche: Summer