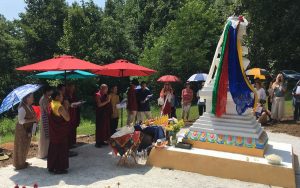 Stupas, or chorten in the Tibetan language, are an important part of Bön and Himalayan culture. Serenity Ridge Retreat Center, headquarters of Ligmincha International, now has its own stupa—the first Bön stupa in the United States and Ligmincha's fifth stupa worldwide. The new stupa was consecrated during the visit of His Holiness Dawa Dargyal Rinpoche to Serenity Ridge during the Summer Retreat in June 2019.
Within the Nine Ways of Bön, Tonpa Shenrap—founder of the Bön tradition—explained and taught the construction of chortens as a part of the Fifth Way, "The Way of Virtuous Lay Practitioners." Tonpa Shenrap had his disciples build the first chorten as a support for doing prostrations and circumambulations, expressing and cultivating devotion, and as a way of making offerings to perfect the accumulation of merit and purify negativities. Chorten exist in many forms, each with a precise shape, measurements and other requirements. However, three requirements common to all: they must contain relics of the buddhas; statues and images; and sutric, tantric and dzogchen scriptures.
Ligmincha maintains five stupas around the world—three in Mexico, one in Poland and the new Serenity Ridge stupa. The Serenity Ridge stupa is of a type known as an "Elegant Yungdrung Chorten," or "Yungdrung Kolek Chorten." It was envisioned and sponsored by Vicki Wheaton, a longtime student of Tenzin Wangyal Rinpoche and dedicated sangha member. While it purifies the negativities of all sentient beings, this stupa arose from a specific desire to benefit Vicki's deceased husband, Thashu Lama, who passed away on September 14, 2007, and also her mother, who passed on May 7, 2017.
During the second week of the summer retreat, in a ceremony attended by retreat-goers and others, His Holiness Dawa Dhargyal Rinpoche, Tenzin Wangyal Rinpoche and his family, and many monks joined in consecrating the stupa. It is located at the front of the property just inside the entrance gate.
Read full article and see photos in October Voice of Clear Light