Thanks to a successful start to our 2022 fundraising activities, Serenity Ridge Retreat Center will soon have 15 stunning prayer wheels lining the path between Kunzang Khang and Garuda House. These prayer wheels were gifted to the center by Vicki Wheaton just as covid struck and everything had to shut down. Now, thanks to more than $13,000 raised through the summer auction and the generosity of donors contributing directly, work is now under way to install the wheels.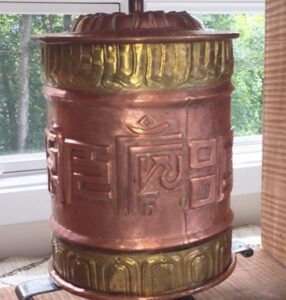 These prayer wheels come from Menri Monastery in India and have been filled with an extraordinary number of mantras, 800 pages of them in each wheel! Among the prayers are the three heart mantras, the 100-syllable mantra, the principal mantra of Sherap Chamma, the longevity mantra and praise of Tsewang Rikdzin, the Sigyal Drak Ngak mantra and others. Each time the wheels spin, the blessings of the mantras flow out and bless us, the land and all beings, similar to the action of prayer flags, like the ones lining the entryway to Serenity Ridge.
We are especially indebted to Khedup Datsang, Vicki Wheaton, Raven Cypress Wood and many Charlottesville sangha members for their work to fill the wheels with the blessing power of the mantras. And we are deeply grateful to John Massie for his beautiful design of the wheel houses.
Vicki Wheaton, Khedup Datsang and Raven Cypress Wood prepare materials to go in the prayer wheels. Everyone is invited to come to the center in October for Fall Retreat: The Five Elements and Serenity Ridge Dialogues and to experience for yourself the power that these wheels give to the center and to us practitioners.
As Rinpoche shared during summer retreat, Serenity Ridge needs more support to fully manifest his vision of the center, which is the headquarters of Ligmincha International. We hope to begin walking trails this fall on almost 100 acres of forest. And as more activity comes to Serenity Ridge, we need to consider putting in a long-overdue new well and expanding the septic system. The aim is not to expand the center; rather, we need to undertake the work that ensures visitors and retreat-goers can take the fullest advantage of the spaces, and minimize the ecological footprint.
If you would like to contribute to Rinpoche's vision of Serenity Ridge as a focal point for new program development, short -and long-term retreats and the preservation of Yungdrung Bon, please consider making a donation.