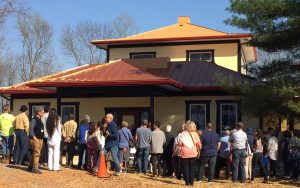 A special photo tribute to Kunzang Khang, the beautifully designed multipurpose building at Serenity Ridge, and its project manager Grover Overstreet, appears in the October issue of Voice of Clear Light.
Grover, who passed away from cancer on September 1, was the essential glue in the construction of the new facility, which took place over a year and a half and was completed in April 2018. As project manager, he represented the general contractor and orchestrated all the countless subcontractors hired to get the job done. He also was the liaison between the contractor and all the various design professionals, building inspectors, engineers and representatives of Ligmincha.
Comments from those at Serenity Ridge who knew Grover or appreciated his work are included.