12May(May 12)12:00 am14(May 14)11:59 pmRETREAT—THE INVOCATION OF TAPIHRITSAwith Menri Shedrup Khenpo Geshe Nyima Dhondup Rinpoche Serenity Ridge Retreat Center, 560 Drumheller Ln, Shipman, VA 22971, USA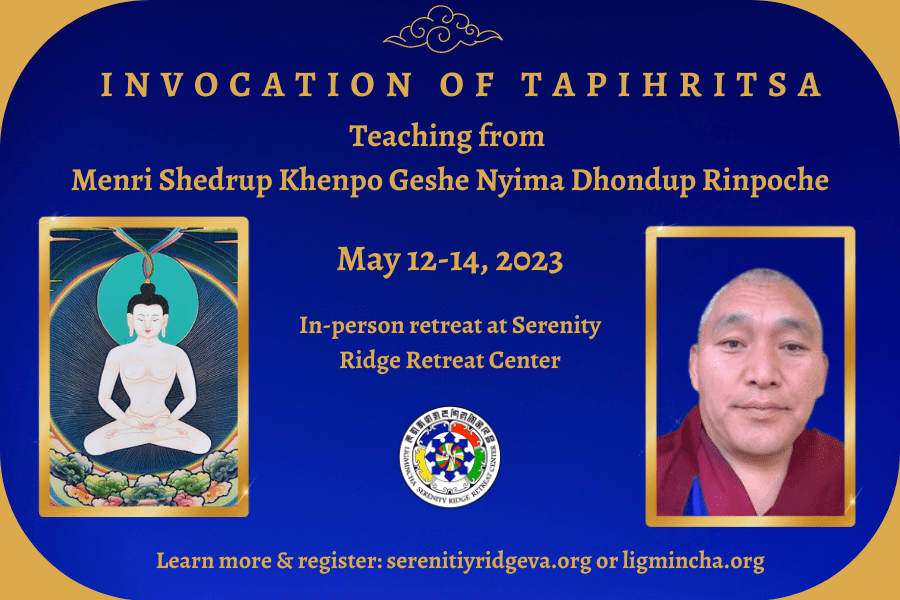 Event Details
THIS RETREAT IS BEING RESCHEDULED FOR LATER THIS YEAR
RETREAT
Topic: The Invocation of Tapihritsa
with Menri Shedrup Khenpo Geshe Nyima Dhondup Rinpoche 
Menri Shedrup Khenpo Nyima Dhondrup Rinpoche will offer teachings on the Invocation of Tapihritsa on May 12-14, 2023, at Serenity Ridge Retreat Center. Everyone is welcome to join us for this powerful dzogchen teaching from the Yungdrung Bön Buddhist lineage of Tibet.
The Invocation of Tapihritsa is a poetic expression of enlightenment or self-realization. The Invocation praises Tapihritsa, an historical figure and enlightened being. Doing so, it teaches us how to recognize and abide in our own true nature. This teaching is of the essence of dzogchen, the «great perfection» teachings of Tibetan Bön Buddhism, with Tapihritsa embodying the true nature of reality. Tapihritsa was born around the 7th or 8th century CE and was one of the many early Bön masters of dzogchen to achieve the rainbow body. His student, Nangzher Lopo, wrote down his spoken teachings for the benefit of future generations. The Invocation to Tapihritsa,is a powerful teaching that guides the practitioner toward realization  of the nature of mind.
In his clear, sensitive and direct teaching style, Khenpo Nyima Rinpoche will present this teaching and its significance in a manner that will  deepen our connection to our own essential goodness and compassion.
Menri Shedrup Khenpo Geshe Nyima Dhondup Rinpoche is abbot of the Bön Dialectic School at Menri Monastery in Dolanji, India. He was born in 1978 in Delhi, India. His birth name, Tsering Dhondup, was bestowed on him by Tsondue Rinpoche, one of the greatest Bön masters of the 20th century. After completing more than 15 years' study of Bön sutra, tantra, dzogchen and the five major and minor sciences of the Bön tradition, Nyima Rinpoche received his geshe Degree in the spring of 2006. In 2008 Rinpoche was enthroned as Menri Shedrup Lopon, the principal master of the Bön Dialectic School at Menri Monastery, where he has been teaching for more than 15 years. In February 2012 he was enthroned as the Menri Shedrup Khenpo, the Abbot of the Bön Dialectic School. Rinpoche has served as invited speaker for several major Bön and Buddhist conferences. He is author of three books covering the main philosophical teachings of Bön, and has contributed several articles to Bon-sGo, the journal of Menri Monastery in India; and the Himalayan Bön website in Tibet. He has taken on additional responsibilities as General Secretary of the Governing Council of Menri Monastery, and since 2011, as director of Menri's official website, www.theyungdrungbon.com. In 2014 he visited Tibet and blessed many Bön followers and practitioners.
Schedule
Link to your local time zone
Friday
4:00 p.m.–6:00 p.m. Onsite registration
6:00 p.m.–6:45 p.m. Dinner
6:45 p.m.– 7:00 p.m. Break
7:00–8:30 pm Teachings
Saturday
8:30 a.m.–9:30 a.m. Breakfast
9:30 a.m.–11:00 a.m. Teachings
11:00 a.m.–11:30 a.m. Break
11:30 a.m.–12:30 p.m. Teachings
12:30 p.m.–3:00 p.m. Break/Lunch
3:00 p.m.–4:30 p.m. Teachings
4:30 p.m.–5:00 p.m. Break
5:00 p.m.–6:15 p.m. Teachings
6:15 p.m.–6:45 p.m: Dinner
Sunday
8:30 a.m.–9:30 a.m. Breakfast
9:30 a.m.–11:00 a.m. Teachings
11:00 a.m.–11:30 a.m. Break
11:30 a.m.–12:30 p.m. Teachings
1:00–1:45 p.m. Lunch
Time

12 (Friday) 12:00 am - 14 (Sunday) 11:59 pm
Location

Serenity Ridge Retreat Center

560 Drumheller Ln, Shipman, VA 22971, USA