201911JulAll Day14Teaching and InitiationGreat Stupa Valle De Bravo Bön, Valle de Bravo, Los Alamos, Ciudad de México, Méx., Mexico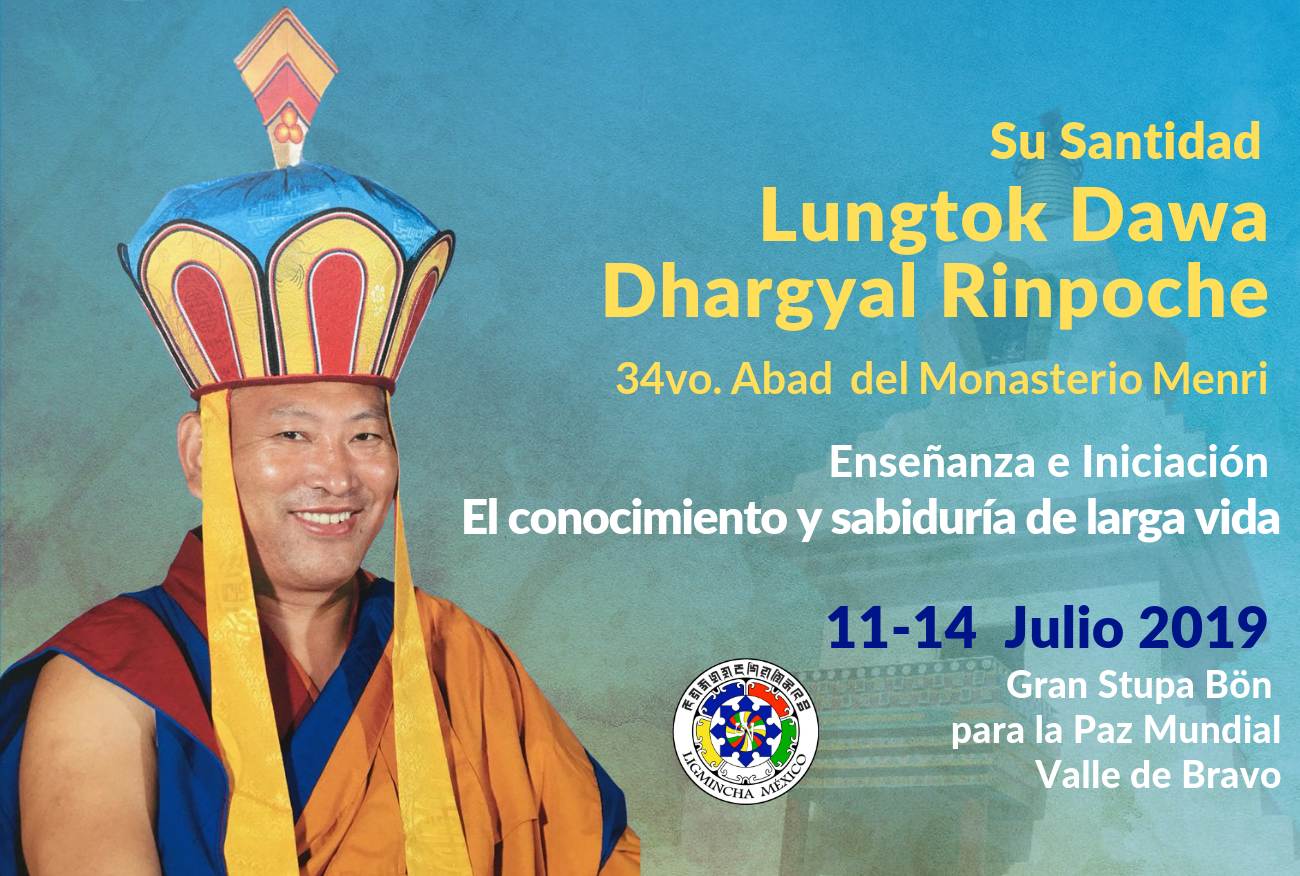 Event Details
TEACHING AND INITIATION
BY HIS HOLINESS IN VALLE DE BRAVO
Ligmincha Mexico is honored with the visit of His Holiness Lungtok Dawa Dhargyal Rinpoche, 34th Abbot of the Menri Monastery and spiritual leader of the Yungdrung Bon tradition.
CONFERENCE AND TEACHING
The knowledge and wisdom of long life
PROGRAM
Tuesday, July 9, 2019
Conference in CDMX
Royal Pedregal Hotel
19 Hrs
Donation of participation: $ 400 pesos
Limited availability
July 11 to 14, 2019
Teaching and Initiation
Great Bon Stupa for World Peace
Donation of participation: $ 4,850 (includes conference in CDMX and food during the retreat)
LIMITED AVAILABILITY.
TO RESERVE YOUR PLACE IN TEACHING:
We have received a very good response from the sangha to attend the retreat, so there are few places available. Considering the limited space in the Stupa to receive all practitioners who wish to participate, as of today, it is necessary to write to ligminchamexico@ligmincha.mx or speak to (726) 262-1818 to check availability and proceed with registration.
INFORMATION ABOUT THE CONFERENCE
LOCATION OF THE ROYAL PEDREGAL HOTEL
Royal Pedregal Hotel
Periférico Sur 4363,
Colonia Jardines de la Montaña
Delegation Tlalpan.
Mexico City
https://goo.gl/maps/6Xhsat4jp4q8dDkE9
LODGING IN MEXICO CITY FOR CONFERENCE
Practitioners who will attend the conference and are inside the republic, can book a room with a preferential rate at the Hotel Royal Pedregal. More information here:
https://us2.campaign-archive.com/?e=[UNIQID]&u=85f06b6a82910cef84dbf6095&id=e84552fc03
INFORMATION OF THE RETIREMENT IN VALLE DE BRAVO
PLACE
Retreat Center "Chamma Ling"
Los Alamos, Valle de Bravo, State of Mexico.
Recommendations and how to get there:
https://mailchi.mp/ligmincha.mx/chammalingvalledebravo
DATES
Thursday 11 to Sunday, July 14, 2019
LODGING IN BRAVO VALLEY
Find lodging options near the Stupa in:
https://mailchi.mp/ligmincha.mx/hospedajevalledebravo
In Chamma Ling Valle de Bravo we have a camping area to facilitate your days of retreat, an area that we put at your disposal with 35 spaces for the assembly of camping tents. Find all the information in:
https://mailchi.mp/ligmincha.mx/campingchammaling
KNOWLEDGE AND LONG-LIFE WISDOM
Teaching and Initiation
In this retreat, His Holiness, the 34 Trizin Menri Lungtok Dawa Dhargye Rinpoche, will offer teaching on "The long-lived Knowledge and Wisdom" of Tsewang Jarima, a text written by Tsewang Rigdzin.
The wisdom of this teaching and its practices can help us recover, prolong and improve our life force; to heal the physical, emotional and energetic imbalances in our life. To develop and increase our qualities, virtues, knowledge, and value. It also helps us to remove disturbances and obstacles that arise in life and in the spiritual path.
Tsewang Rigdzin was the son of the eighth-century Tibetan master Drenpa Namkha, and is known as the "King of Longevity." He was a teacher and holder of the Dzogchen lineage. We all want a long life full of purpose and meaning. The Bön tradition has many practices that help to prolong life and recover the vital force lost by ignorance of our true nature. Teaching is based on compassion, and by strengthening and prolonging our life, it gives us more time for our spiritual and spiritual development. to serve and benefit other sentient beings. Through meditation, visualizations and repetition of the Mantra we connect with the natural state. Go to that wonderful retreat and take advantage of the great opportunity that is presented to you in your precious life! H.H. Menri Lungtok Dawa Dhargye Rinpoche, will give us an INITIATION.
HIS HOLINESS LUNGTOK DAWA DHARGYAL RINPOCHE
His Holiness was selected as the 34th Menri Trizin, spiritual leader of the Bön tradition and abbot of the Menri Monastery in Dolanji, India, on January 1, 2018, after the death of the 33rd Menri Trizin, Lungtok Tenpai Nyima Rinpoche, in September 2017 . In February 2018, Bönpos from around the world came together to celebrate the selection of the 34th Menri Trizin at the Monastery of Menri. On September 6, 2018, a formal ceremony of great enthronement was held in Menri. In recognition of his enthronement and as a way to deepen the connection with His Holiness, Geshe Tenzin Wangyal Rinpoche extended the invitation for His Holiness to teach at the Ligmincha centers in Poland, Mexico and the United States. This is His Holiness' first trip to the West after his enthronement and the biggest tour ever organized for a Menri Trizin.
Time

July 11 (Thursday) - 14 (Sunday)
Location

Great Stupa Valle De Bravo Bön

Valle de Bravo, Los Alamos, Ciudad de México, Méx., Mexico