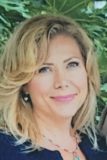 Tibetan Yoga instructor Tsa Lung Trul Khor of the Atri "Instructions on the A" and of the Zhang Zhung Nyien Gyu.
Her first approach to the Tibetan Yoga of the Yundrung Bon was in the year 2000, this led her to meet her Trul Khor Mentor from that moment until today; Senior Instructor Alejandro Chaoul PhD. Director of the International Yoga Ligmincha Program.
She has the blessings of her spiritual teacher Tenzin Wangyal Rinpoche who names her a Tibetan Yoga Instructor. With the guidance and mentoring of his two teachers, he begins to instruct from 2004 to date.
Ivonne teaches The International Tibetan Yoga Program that is run in parallel with the United States, South America and Europe. This program is now available in Mexico.