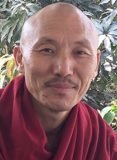 Khenchen Tenpa Yungdrung Rinpoche is the abbot (khenpo) of Triten Norbutse Monastery in Kathmandu, Nepal, one of the two main Bön monasteries outside Tibet. He teaches frequently in Europe and North America.
Khenchen Rinpoche was born in 1969 in Dhorpatan, a remote area of western Nepal that hosts a small Tibetan refugee settlement and a Bön monastery. He began studies at a local monastery at age 11, and then transferred to Menri Monastery in Dolanji, India. In 1986, during his 13-year course of study, he began teaching philosophy and general Tibetan sciences to younger students. From 1989–1992 he served as accountant, treasurer and then president of the school. He earned his geshe degree in 1994.
After graduating, Khenchen Rinpoche went to Kathmandu to further his studies of tantra and dzogchen under the guidance of His Eminence Yongdzin Tenzin Namdak Rinpoche. In 1996, His Holiness the 33rd Menri Trizin, Lungtok Tenpai Nyima Rinpoche and H.E. Yongdzin Rinpoche appointed him the head teacher of Triten Norbutse Monastery in Nepal. In 2001, H.H. Menri Trizin Rinpoche and H.E. Yongdzin Rinpoche appointed him abbot of the monastery.
Since 1998, Khenchen Rinpoche has regularly traveled in Europe and the United States giving teachings, including leading retreats with H.E. Yongdzin Rinpoche. Starting in 2005, with guidance from Yongdzin Rinpoche, he undertook responsibility for establishing and furthering Shenten Dargye Ling in Paris, France for the preservation, research, teaching and practice of the Yungdrung Bön tradition.