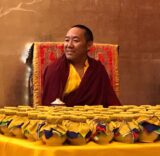 Lama Kalsang Nyima is a resident lama of Ligmincha Mexico. He is well known as an artist and thanka painter of the Bön tradition. Previously a resident lama for Ligmincha Institute in Charlottesville, Virginia, he now lives at the Great Bön Stupa for World Peace in Valle de Bravo, Mexico.
Born in 1970 in the village of Tad, in the province of Dolpo, Nepal, he is connected to Bön through his father's Dong lineage, and to Buddhism through his mother's Nyel lineage.
At age 9, Lama Kalsang became a monk at Samling Monastery, the oldest and most important monastery in Dolpo, where his grandfather, Lama Lhagyep Rinpoche, was head teacher. There, he trained intensively for 12 years in the many methods of sutra and tantra, finished his ngöndro (foundational practices) and completed many personal retreats, including a traditional three-year closed retreat.
At age 21, Lama Kalsang spent a month walking from Dolpo to Kathmandu to study at Triten Norbutse Monastery with H.E Yongdzin Lopon Tenzin Namdak Rinpoche. During his four years of study, in addition to traditional Bön teachings he also learned techniques of traditional thangka painting. Lama Kalsang then spent five additional years studying thangka painting at Tulku Urgyen Rinpoche's monastery in Boudhanath under the master Chokyong Gonpo. Then he returned to Triten Norbutse, where Yongdzin Rinpoche asked him to help paint the entire cycle of Bönpo tantric mandalas for publication in the book Mandalas of the Bon Religion.
In 2000, Lama Kalsang taught at a school for Bönpo children in Sikkim For six years, he taught education, music, chanting, rituals, painting and torma making. His experience as a thangka painter led to an invitation to teach a course for painters sponsored by a large museum in central India. The next year the museum invited him back to paint three entire rooms with Bönpo images.
Tenzin Wangyal Rinpoche paid many visits to Lama Kalsang's monastery in Sikkim, and they came to know each other well. Rinpoche invited him to come to the West, and Lama Kalsang accepted. His first task in the West was to paint the series of images for the interior of the Bön stupa in Torreón, Mexico. This work included a huge 40-foot mandala of Shenlha Ӧkar, all painted freehand over seven months. Following this, he took four months to complete a mandala of Tapihritsa.
Following his work in Torreon, Lama Kalsang went, at Tenzin Rinpoche's request, to Chihuahua, Mexico to tutor young Tulku Jorge Rene. Beginning in 2007, he also began visiting Serenity Ridge Retreat Center, headquarters of Ligmincha International, and served as resident lama both at Serenity Ridge and at Chamma Ling, Colorado. Lama Kalsang returned to Mexico in 2010 to help prepare the Great Stupa for World Peace at Chamma Ling, Valle de Bravo. Today, along with Lama Yungdrung Lodoe, he serves the two centers and many sanghas throughout Mexico as a resident lama.