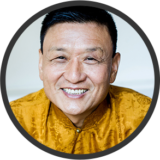 Founder & Spiritual Director
Tenzin Wangyal Rinpoche is a respected and much-loved teacher to students around the world. Trained as a Bön monk, Rinpoche now lives as a householder, allowing him to fully relate to the needs and concerns of his students. He is known for the depth of his wisdom and for his unshakeable commitment to help students recognize their own true nature.
Tenzin Rinpoche teaches fluently in English, in a warm and engaging style, frequently drawing on examples from contemporary culture and life to explain or elucidate the teachings and how we can relate to them. His brings the ancient Bön teachings to life, making them relevant to the lives of modern people and a powerful force for spiritual growth and transformation.