13AugAll Day14FeaturedRetreat—The Four Goodnesses of Tapihritsa: Dzogchen Pith Instructionswith Geshe Choekhortshang RinpocheSerenity Ridge Retreat Center & Online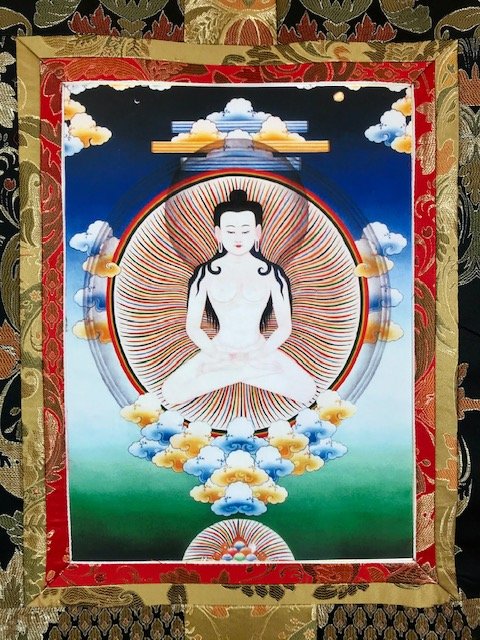 Event Details
The Four Goodnesses of Tapihritsa: Dzogchen Pith Instructions with Choekhortshang Rinpoche
Come join us for Geshe Choekhortshang Rinpoche's first teachings in the United States! Rinpoche is a popular teacher across Europe, and possess an excellent command of English. Many know him for his online teachings on the Ngöndro, Yeshe Walmo, Sherap Chamma and Chöd.
In this very special weekend event, Rinpoche will teach on the Four Goodnesses of Tapihritsa. Tapihritsa gave these very direct and quintessential instructions to Gyerpung Nangzher Löpo upon their first meeting in the eighth century.
VIEW: By omni-pervasiveness, let unconditioned self-awareness go into the self-liberated vision not grasped by mind; this way is good,

MEDITATION: Let baseless experience unconditionally perceive the non-referential and self-clear edition; this way is good,

BEHAVIOR: Without dualistic choosing, let experiential vision directly perform flexible actions with are without attachment; this way is good,

FRUIT: Let the limits of hope and fear self-liberate into the unobtainable self-arising realization; this way is good.

⸺from Wonders of the Natural Mind, by Tenzin Wangyal Rinpoche
The result of receiving, understanding and meditating on these teachings ultimately is attainment of the rainbow body, complete self-realization or buddhahood.
Rinpoche will teach in depth on these four "goodnesses" with his usually insightful, lively and good-natured style over one and a half days of teachings and practice.
Schedule (New York Time):
Link to your local time zone

Saturday, August 13, 2022
9:30–11:00 a.m. Teaching
11:00–11:30 a.m. Break
11:30 a.m.–12:30 p.m. Teaching
12:30 p.m.–2:30 p.m. Break
2:30 p.m.–4:00 p.m. Teaching
4:00 p.m.–4:30 p.m. Break
4:30 p.m.–5:30 p.m. Teaching
Sunday, August 14, 2022
9:30–11:00 a.m. Teaching
11:00–11:30 a.m. Break
11:30 a.m.–12:30 p.m. Teaching
This event will be held online and in-person at Serenity Ridge Retreat Center. Translations will be available in Portuguese and Spanish.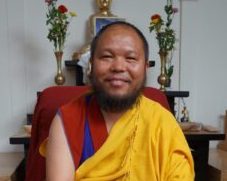 Geshe Choekhortshang Rinpoche was born in a village next to the Samling monastery, in Dolpo, Nepal on 15th June 1976. His family heads the Tashi Namgyal monastery in their home village. At the age of sixteen he took religious vows and was admitted to the Bön Dialectic School of the Menri monastery. He was honored with the Geshe degree in 2008. During his studies in the Menri monastery he served as a secretary of His Holiness 33rd Menri Trizin. In 2002, he was elected President of the Bön Dialectic School and became the chief editor of the Bon-sGo journal. He then founded the Publication Centre for ancient manuscripts of Dolpo in 2005. From 2005 until 2008 he was appointed treasurer of the Menri monastery.
Taking advantage of his experience and traditional monastic education, in 1998 he began to do academic research. His main interests are the history and language of Dolpo and Bön philosophy. He has taken part in many academic conferences, including the 11th, 12th and 13th annual seminars of the International Association for Tibetan Studies, the International Conference on Bön at Blou, France in 2008, the 7th International Congress on Traditional Asian Medicine at Thimphu, Bhutan in 2009, The 3rd International Seminar of Young Tibetologists, Kyoto, Japan in 2012. He has contributed to several Tibetan scientific journals and also has been involved in editing and publishing books. In 2009 he was invited to work at the Leiden University, Netherlands, as an affiliated fellow in religious studies.
Choekhortshang Rinpoche lives in Prague, Czech Republic. Currently, he is an assistant professor in the Department of South and Central Asia at Charles University in Prague. He has been teaching at many of the Ligmincha centers in Europe.
Time

August 13 (Saturday) - 14 (Sunday) EDT
Location

Serenity Ridge Retreat Center & Online
Registration
Online: Register to attend Geshe Choekhortshang Rinpoche's Retreat via Zoom
Onsite: Register to attend Geshe Choekhortshang Rinpoche's Retreat at Serenity Ridge