24JunAll Day08JulOnsite Retreat—Tummo, Part 3with Geshe Tenzin Wangyal Rinpoche and honored guest H.H. the 34th Menri TrizinSerenity Ridge Retreat Center, 560 Drumheller Ln, Shipman, VA 22971, USA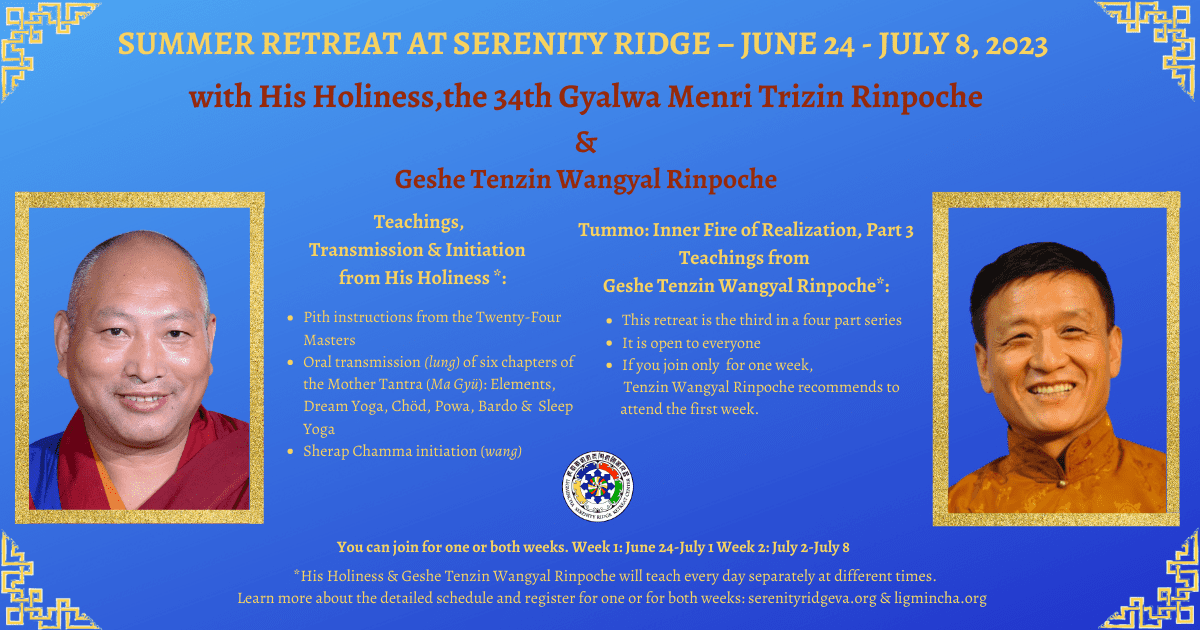 Event Details
RETREAT
with Tenzin Wangyal Rinpoche, and honored guest, His Holiness, the 34th Gyalwa Menri Trizin Rinpoche
Teachings, Transmission and Initiation from His Holiness:
Pith instructions from the Twenty-Four Masters

Oral transmission

(lung)

of six chapters of

the Mother Tantra (

Ma Gyü

): Elements, Dream Yoga, Chöd, Powa, Bardo &

Sleep Yoga

Sherap Chamma initiation (

wang) on July 1
Tummo: Inner Fire of Realization, Part 3, 
Teachings from 
Geshe Tenzin Wangyal Rinpoche*:
This retreat is the third in a four part series

It is open to everyone

If you join only

for one week,

Tenzin Wangyal Rinpoche recommends to attend the first week
Newcomers welcome.
More information coming soon on how to register and prepare for this retreat..

*His Holiness & Geshe Tenzin Wangyal Rinpoche will teach every day separately at different times.
You can join for one or both weeks. Week 1: June 24-July 1 Week 2: July 2-July 8
Registration will open on March 15 at 12pm NY time.
This retreat will be held in person at Serenity Ridge Retreat Center, Virginia and online via Zoom.
Time

June 24 (Saturday) - July 8 (Saturday)
Location

Serenity Ridge Retreat Center

560 Drumheller Ln, Shipman, VA 22971, USA
Registration
Register to attend for Week 1
Register to attend for Week 2
Register to attend the retreat for Both Weeks