22Mar(Mar 22)10:00 am26(Mar 26)2:00 pmFeaturedRetreat: The Five Wisdoms ~ How to bring spiritual practice to our daily lifeat The Great Stupa with Tenzin Wangyal RinpocheGran Stupa Bön para la Paz Mundial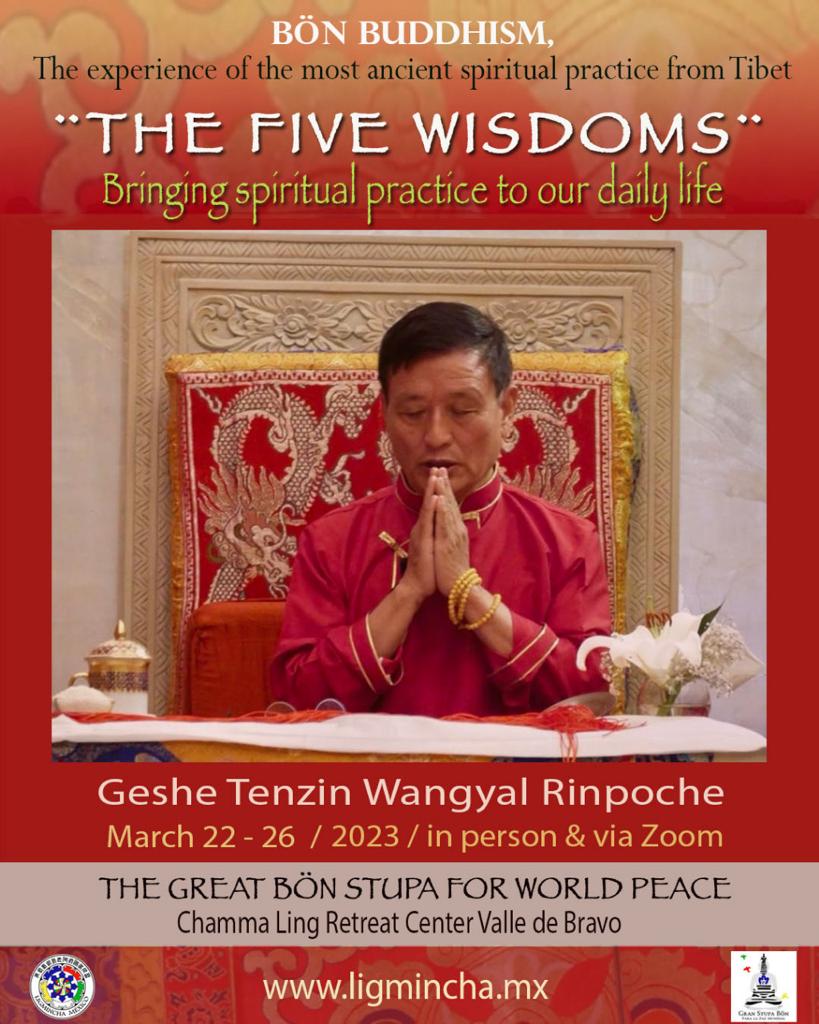 Event Details
LIGMINCHA MEXICO invites you to the Teaching
The Five Wisdoms ~ How to bring spiritual practice into our daily lives.
In-person and online retreat with GESHE TENZIN WANGYAL RINPOCHE
Great Stupa Bön for World Peace
March 22-26, 2023
*With Spanish translation. *
Many ancient Tibetan traditions describe wisdom as having five characteristics. The Yungdrung Bön tradition refers to these five as the wisdom of emptiness, mirror-like wisdom, the wisdom of equanimity, discriminating wisdom, and all-accomplishing wisdom.
When the mind is free of the five disturbing emotions-ignorance, anger, pride, attachment/desire, and jealousy-the natural mind arises spontaneously as the five wisdoms.
Rinpoche will clearly, vividly and skillfully guide us to recognize what obscures our true nature to help us access these spontaneously arising wisdoms in our daily lives.
Join us in person or online to receive the medicine of these teachings, take them to heart and discover our ability to transform confusion into wisdom.
We invite you to visit:
https://www.ligmincha.mx
Facebook: Ligmincha Mexico
Chamma Ling Retreat Center, Camino a los Alamos s/n, Valle de Bravo, Edo. de Mex.
HOTELS CLOSE TO THE STUPA
EL REFUGIO DEL ALMA
Los Álamos a 600 mts. de la Gran Stupa
Cel. 554 618 5855 (mensaje escrito)
refugiodelalmacabanas@gmail.com
HOTEL MISION GRAND VALLE DE BRAVO
Tel. 726 266 2753, al 55
Fontana Brava s/n, AVÁNDARO
reserve@hotelesmision.com.mx
www.hotelesmision.com.mx
SUITES DE LA MONTAÑA
726 266 1094
Fontana Luz #110, AVÁNDARO
suites.enlamontana@hotmail.com
POSADA REAL DEL BOSQUE
722 137 6959
Fontana Linda #11, AVÁNDARO
www.hospedajereal.com.mx
LA CASA DEL RIO
555 281 3388
Fontana Brava #7, AVÁNDARO
CABAÑAS MONTE ALTO
726 266 1886
De los Rosales, Monte Alto, AVÁNDARO
cabanasmontealto1@gmail.com
www.cabanasmontealto.com
HOTEL ALMA DE 7 LUNAS
Tel. 726 266 1866
Rancho las Joyas s/n, AVÁNDARO
www.almade7lunas.com.mx
HOTEL LA JOYA DEL VIENTO
726 266 1782
Camino a las Joyas s/n, AVÁNDARO
lajoyadelviento@yahoo.com
www.lajoyadelviento.com
CABAÑAS TREJE
558 534 4437
El Cedro s/n, Monte Alto, AVÁNDARO
HOTELS IN VALLE DE BRAVO
CASA ARAWI HOTEL BOUTIQUE
726 262 3109
del Vergel 2, CENTRO
contacto@arawihotelboutique.com.mx
htpps://www.arawihotelboutique.com.mx
HOTEL & SPA LOTO AZUL
Tel. 726 262 0157, 726 262 0796
Av  Tizates s/n, Barrio de Otumba, OTUMBA
reservaciones@lotoazulhotel.com
www.lotoazulhotel.com.mx
CINCO RODAVENTO
555 292 5032
5 de Mayo #111, Santa Ma. Ahuacatlán, CENTRO
www.cincorodavento.com
MUBU HOTEL BOUTIQUE
726 103 000
El Depósito #102, CENTRO
reservaciones@hotelmubu.com
mubuhotelboutique.com
MESÓN DE LEYENDAS
726 262 4414
Fco. Gzz. Bocanegra #405, CENTRO
mleyendas2@gmail.com
www.mesondeleyendas.com
HOTEL TONANCALLI
Tel. 726 262 0078
Fco. Gzz. Bocanegra #312, CENTRO
hoteltonancalli@live.com.mx
www.tonancalli.com
HOTEL PUESTA DEL SOL
Tel. 726 262 2472
Calzada Santa María #119, CENTRO
puestadelsolbv@yahoo.com.mx
www.puestadelsolhotel.com
HOTEL CASA NUEVA
Tel. 726 262 1766
Villagrán #100, CENTRO
Time

22 (Wednesday) 10:00 am - 26 (Sunday) 2:00 pm GTM -6
Location

Gran Stupa Bön para la Paz Mundial
Registration
REGISTER HERE