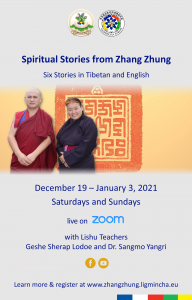 In the Bön tradition, spiritual stories are a traditional form of teaching. They inspire devotees and practitioners to develop and strengthen their faith in dharma teaching. Join Lishu Institute teachers Geshe Sherap Lodoe and Dr. Sangmo Yangri on Zoom December 19–January 3 for Spiritual Stories from Zhang Zhung.
Geshe Lodoe and Sangmo Yangri will present six stories in Tibetan and English. The stories of Tapihritsa and Nangzher Lopo belong to the Zhang Zhung Nyen Gyü teachings. The selected stories of Kongpo Bonri and Shenza Nechung belong to the medium hagiography of Buddha Tonpa Shenrap Miwo. The story of Gongzod Ritro Chenmo belongs to the A-Tri teachings. Tulku Loden Nyingpo and Shardza Rinpoche had independent biographies.
The December 19–20 teaching will feature Tapihritsa and Nangzher Lopo. Stories from Kingpo Bonri and Gongzod Ritro Chenmo will be shared December 26–27. And stories of Tulku Loden Nyingpo and Shardza Rinpoche will be shared January 2–3. The sessions will begin at 8 a.m. New York time.
One hundred percent of your donation for the sessions will go to the teachers of Lishu.