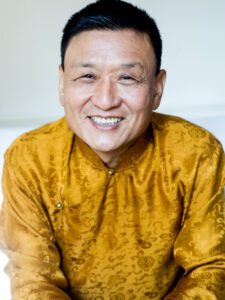 Join Tenzin Wangyal Rinpoche, founder of The Three Doors, September 10–11 for a very special weekend retreat on Zoom. The 3 Doors is an international organization that offers meditation programs with opportunities to meditate in community and integrate meditation into your everyday life for the benefit of self and others. Everyone is welcome!
Rinpoche will guide participants to connect with the inner refuge of an open heart of wisdom and compassion during two full days of teaching. Practices will be guided by 3 Doors senior teachers Marcy Vaughn, Gabriel Rocco, Alejandro Chaoul and Raven Lee.
Within each one of us is a heart of compassion, our natural response in the presence of suffering. But often we are overwhelmed, saddened or burdened by the suffering we perceive in the world around us, and we may shut down or turn away. If we acknowledge how the pain of others touches us and are supported to open in the presence of our pain, from the openness itself we touch the source within, a source of compassion, and can respond to others in a beneficial way.
This retreat provides a unique opportunity to experience the 3 Doors practices as presented by the founder of the organization himself. In addition, opportunities will be provided for participants to deepen and reflect on their experiences through sharing and discussion in small groups.
Audio recordings of teachings and guided practices will be available for streaming and download shortly after the completion of the program.
Spanish, German, French and Hungarian translations available.