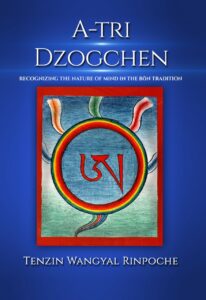 Tenzin Wangyal Rinpoche's new book, A-tri Dzogchen: Recognizing the Nature of Mind in the Bon Tradition, in now available in the Ligmincha Store. In A-tri Dzogchen, Tenzin Wangyal Rinpoche shares essential teachings and practices for recognizing and resting with open awareness in the true nature of one's mind.
This book grew out of teachings given to students in Amsterdam from 2013-2019. The Netherlands sangha put together a book based on these teachings that was distributed in 2021 only in the Netherlands in a very limited edition. Now the book has been revised for a broader audience.
A-tri is one of the major lineages of dzogchen, the highest teachings within the Tibetan Bon tradition, which points to the nature of one's mind as spacious and open, luminous and aware, and the source of all positive qualities.
The teachings in this book draw on a text by thirteenth century master Drugyalwa Yungdrung, condensed into 15 sessions from an even earlier text. The book includes preliminary practices, an introduction to recognizing the nature of mind, practices to stabilize one's presence in it, and guidance for ultimate liberation.
With his ability to make the deep teachings of ancient texts relevant and engaging to the modern world, Tenzin Wangyal Rinpoche has written a book that can benefit anyone interested in exploring their own nature and recognizing the inner light of awareness that exists in every sentient being.
With full color images and illustrations.