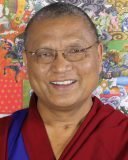 His Eminence Menri Ponlop Trinley Nyima Rinpoche is the head teacher at Menri Monastery in Dolanji, India. He is a renowned scholar and meditation master who teaches internationally as well as maintaining his many responsibilities at Menri Monastery.
He was born in the remote, high altitude village of Tsarka in Dolpo, Nepal into the esteemed Yangton family. In ancient times, a priest of the Yangton lineage was considered necessary in the royal households, including that of Tonpa Shenrap Miwoche, founder of the Bön tradition.
H.E. Menri Ponlop Trinley Nyima Rinpoche began his training in 1976 at age 10, completing a series of three-month retreats focusing on tantric deities, as well as the preliminary practices of dzogchen. In 1979, his relative, Lama Tashi Gyaltsen, brought him to Menri Monastery to begin his formal studies. He received his geshe degree from the Bön Dialectic School of Menri Monastery in 1989 and began teaching soon thereafter. In 1992, he was appointed as the lopon, or head teacher (also known as "ponlop"), of the school by H.H. the 33rd Menri Trizin Lungtok Tenpai Nyima Rinpoche and H.E. Yongdzin Tenzin Namdak Rinpoche.
In 2018 he led rituals for the selection of the 34th Menri Trizin, including the final selection ceremony of His Holiness Lungtok Dawa Dhargyal Rinpoche.