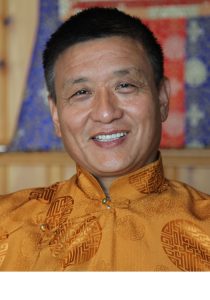 The next GlideWing online workshop with Geshe Tenzin Wangyal Rinpoche, "Tibetan Sound Healing," will be held August 10–September 1, 2019. With Rinpoche's personal guidance you will learn to use the healing power of five sacred syllables known as the Five Warrior Syllables.
The Tibetan Bön Buddhist tradition is one of the most ancient spiritual traditions to use sound and its vibration as an essential tool for healing and spiritual development.Guided by the mind and carried by the breath through subtle channels within the body, the power of sound can open the potential to bring joy and love to your life, facilitate personal healing, dissolve energetic disturbances and awaken positive action in the world around you.
Changing life for the better isn't easy – especially when we're trying to change by thinking or worrying our way out of problems. Overcoming a nagging physical issue, bad habit, negative emotion or harmful thought pattern can take months, years, even decades of trying. The Tibetan spiritual traditions offer a faster route to lasting happiness and well-being. Through the ancient practice of the Five Warrior Syllables, you will discover the power of pure, primordial sound to quickly cut through the obstacles to lasting change and to open the space for profound healing of body, energy and mind.
Tenzin Rinpoche's teachings are based on his popular book Tibetan Sound Healing.
Upcoming:
Awakening the Sacred Arts: Discovering Your Creative Potential with Tenzin Wangyal Rinpoche, September 28–October 27.
Tibetan Dream Yoga with Tenzin Wangyal Rinpoche, November 16–December 15.