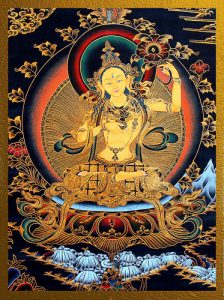 On March 9, 2020, and each subsequent full moon of 2020, join Tenzin Wangyal Rinpoche online for meditation followed by a 24-hour mantra recitation session. This is a precious opportunity to engage in the healing practice of Sherap Chamma, Mother of Wisdom and Love. You can join any time during the 24-hour period. Advance registration is required.
Each session starts at 10 a.m. New York time on the day of a full moon and ends at 10 a.m. the following day. Tenzin Wangyal Rinpoche will be supported by Ligmincha International's global community of practitioners. Most of these 24-hour sessions will begin with a 20-minute meditation guided by Tenzin Wangyal Rinpoche; on March 9 and April 8, the initial meditation will be guided by Marcy Vaughn. In all sessions Rinpoche and Ligmincha lamas will take opportunities to join participants throughout the 24 hours.
Please note: If you previously registered for the March 9 Full Moon session, please be aware that due to technical issues, you will need to re-register using the link at https://cybersangha.net/24-full-moon/. By reregistering, you will receive a new link for joining the Zoom session. Thanks for your understanding! 
In the United States, daylight saving time begins on Sunday, March 8, 2020, so be sure to take this one-hour difference into account when determining the time conversion for March 9.
March 9 Host Countries
From March 9–10, 2020, 16 teams of mantra recitation hosts from Ligmincha International communities will each commit to a 90-minute shift during the full moon Zoom session to ensure that recitation continues uninterrupted throughout the 24-hours. These teams, listed according to the start time of each shift (New York time), include:
10:00 US
11:30 Finland
13:00 Germany
14:30 Austria, Italy
16:00 Poland
17:30 Brazil, Portugal
19:00 Argentina, Colombia, Peru
20:30 Costa Rica
22:00 Mexico
23:30 USA (California)
01:00 Holland
02:30 Switzerland
04:00 Korea
05:30 France
07:00 Hungary
08:30 Spain
Future full moon practice sessions are scheduled for Wednesday, April 8; Thursday, May 7; and Friday, June 5. See the full schedule and learn more on cybersangha.net.