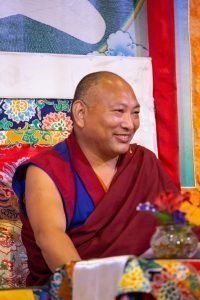 The August 2019 issue of Voice of Clear Light, Ligmincha's bimonthly newsletter, is now available! This special issue features coverage of His Holiness Lungtok Dawa Dhargyal Rinpoche's first European and American tour since being enthroned as the 34th Menri Trizin—abbot of Menri Monastery in Dolanji, India and head of the Tibetan Bön lineage worldwide.
The issue includes photos from His Holiness's visits to Ligmincha Poland, Ligmincha Germany, Serenity Ridge Retreat Center in Virginia, U.S., and Ligmincha Mexico. It features an interview with His Holiness conducted by the VOCL team during his two weeks at Serenity Ridge. Also read sangha members' sharing of their own experiences of being with His Holiness.
Voice of Clear Light is published six times a year for students of Geshe Tenzin Wangyal Rinpoche and those interested in Tibetan Bön Buddhism. The August issue also includes much more—new books, new retreats and teachings, and updates from Ligmincha's affiliated programs The 3 Doors and Lishu Institute. Past issues of the newsletter also are available.