Ligmincha Learning is pleased to offer two courses starting in February. "Sherap Chamma" with senior teacher Marcy Vaugh begins February 1. "Treasures of Bön" with Ligmincha Texas resident lama Geshe Denma Gyaltsen and course mentor and teacher John Jackson begins February 29.
February 1–29, 2020: 'Sherap Chamma, Mother of Wisdom and Love' with Marcy Vaughn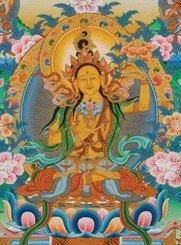 In many cultures the primordial female energy is seen as the origin of existence and the source of all positive qualities. Sherap Chamma, Mother of Wisdom and Love, is the source of wisdom, and her medicine is love and compassion. The teachings of Sherap Chamma comprise one of the most important tantric cycles of the ancient Bön tradition.
In this online course, participants will learn a beautiful and simple meditation practice enabling each to directly connect with the divine feminine energy. Within the support of the group, an environment is created to promote profound healing of physical, energetic, emotional and spiritual dimensions of life. With visualization, the sound of mantra and deep contemplation, participants can make a personal connection to this sacred form of the universal mother, Sherap Chamma, and are guided through this connection to innate wisdom and the love and compassion that naturally radiate from that wisdom.
Those experienced in meditation as well as those who are beginning are warmly welcomed.
February 29–April 4, 2020: 'Treasures of Bön: History, Lineage & Practice' with Geshe Denma Gyaltsen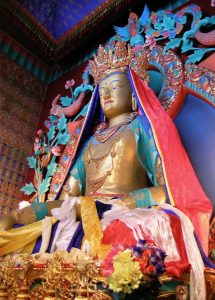 This course is designed for anyone who would like to learn more about, or deepen their existing knowledge of, the ancient, profound tradition of Tibetan Bön Buddhism.
Geshe Denma Gyaltsen, resident lama for Ligmincha Texas, and John Jackson, mentor for many Ligmincha Learning courses and international teacher, enter into deep conversations around essential masters and teachings of the Bön tradition. The conversation is followed by a guided meditation led by either Geshe Tenzin Wangyal Rinpoche or Geshe Denma.
The course is ideal for both beginners who have recently connected with Bön teachings and want to know more about where it comes from and for practitioners who would like to know how all the practices fit together into a beautiful and complete system of philosophies and meditations.
The course is divided into five parts:
History and Lineage
The Causal Vehicle
The Path of Sutra
The Path of Tantra
The Path of Dzogchen