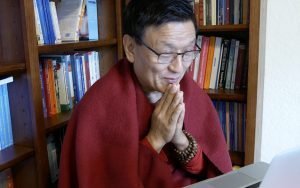 To support us all in maintaining serenity, staying healthy and caring for loved ones during the worldwide pandemic, throughout June 2020 Tenzin Wangyal Rinpoche continues to offer a full schedule of live online broadcasts from his home. They include teachings, guided meditations, mantra recitation sessions and conversations with invited presenters. Other weekend teachings may be scheduled in coming days; visit cybersangha.net for updates.
All broadcasts except the June 5 24-Hour Full Moon Practice can be viewed live on the Facebook page of Tenzin Wangyal Rinpoche or at the "Learn more" links below.

Friday, June 5
24-Hour Full Moon Practice of Sherap Chamma
On June 5, 2020, and each subsequent full moon of 2020, join us online for meditation followed by a 24-hour mantra recitation session. The June 5 session starts with a guided meditation at 10 a.m. New York time on the day of the full moon and ends at 10 a.m. the following day. We will be supported by Ligmincha International's global community of practitioners. Unlike Rinpoche's CyberSangha® Facebook Live broadcasts, the 24-hour full moon practices take place via Zoom, in an online meeting space. There is no cost to participate, but registration is required in advance of each 24-hour session.
Learn more and register
Saturday, June 6, 1 p.m. New York time
Living & Dying Without Fear, Part 6
In the final session of a six-part series, Tenzin Wangyal Rinpoche guides a meditation related to the Tibetan Practice of chöd. There is no need to view the previous sessions to participate.
Learn more and access recordings of Parts 1-5
Sunday, June 7, 2020, 10 a.m. New York time
Teachings & Prayers for the Pandemic from Six Spiritual Traditions of Tibet
In a Facebook Live conversation hosted by Geshe Tenzin Wangyal, knowledgeable representatives of six Tibetan Buddhist traditions offer teachings and prayers for the pandemic according to their respective traditions, while transcending sectarian interests. These esteemed teachers include:
Pönlop Trinley Nyima Rinpoche (Yungdrung Bön)
Sogan Rinpoche (Nyingma)
Yongey Mingyur Rinpoche (Kagyu)
Khenpo Gyurmey Dorjee (Sakya)
Gyaltsab Rinpoche Choekyi Nangpa (Jonang)
Yangten Rinpoche (Gelug)
The June 7 broadcast will be in Tibetan with simultaneous translation into English and many other languages.
Learn more
Friday, June 12, 1 p.m. New York time
Fasting for a Healthy Body & Soul: Perspectives on an Ancient Tradition
Tenzin Wangyal Rinpoche hosts a Facebook Live conversation with invited experts.
Visit cybersangha.net in coming days for more details.
Sunday, June 28, 1 p.m. New York time
Traditional and Modern Dance and Music of Tibet
Invited artists perform live; hosted by Tenzin Wangyal Rinpoche.
Visit cybersangha.net in coming days for more details
View the full schedule of upcoming live broadcasts with Tenzin Wangyal Rinpoche, access translations in multiple languages, and search an archive of all of Rinpoche's previously recorded webcasts at cybersangha.net.