Noticias Ligmincha Internacional
All are warmly invited to join Bön lamas, Ligmincha instructors, and other members of the Ligmincha International community as we engage in a 24-hour session of prayers and mantras on behalf of H.E. Yongdzin Tenzin Namdak Rinpoche, the most senior teacher in the Tibetan Bön tradition. The online session will begin at 10 a.m. New York time on Friday, July 9, 2021, and end at 10 a.m. the following day. Ligmincha practice leaders from many countries around the world will be present throughout the 24 hours to ensure the recitations continue uninterrupted.
To enter the Zoom session, please click «Register Now,» below. You may enter at any time during the 24 hours, as often as you wish, and for as long as you wish. Participants are encouraged to recite mantras at their own speed; all microphones will be muted by default except those of designated practice leaders.

During the prayer session, participants will be guided in reciting:
July 9 Host Countries
From July 9 to 10, 2021, 24 mantra recitation hosts from Ligmincha International communities will each commit to a 60-minute shift during the prayer sessions to ensure that the practice continues uninterrupted throughout the 24-hours. Each shift will have the above mentioned structure by a mantra host in Tibetan and in his or her native language. Listed according to the start time of each shift (New York time), these teams may include:
10:00 USA
11:00 Brazil, Portugal
12:00 Mexico
13:00 Hungary
14:00 Poland
15:00 France
16:00 Germany
17:00 USA
18:00 USA
19:00 Mexico
20:00 Mexico
21:00 USA
22:00 USA
23:00 Costa Rica
00:00 South Korea
01:00 The Netherlands
02:00 India
03:00 Switzerland
04:00 Italy
05:00 Spain
06:00 Poland
07:00 USA
08:00 Finland
09:00 Colombia
Questions? Contact us
Chamma Ling Wilga

| Noticias
Lishu Institute

| Noticias
Serenity Ridge

| Noticias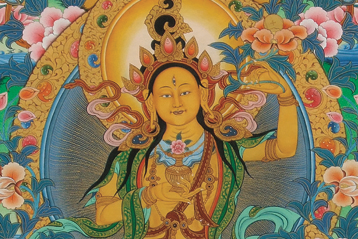 In a special 40-minute Facebook Live broadcast on the day of the February 9 full moon, 1 p.m. New York time, Tenzin Wangyal Rinpoche will guide a deep, healing meditation on Sherap Chamma, Mother of Wisdom and Love. Rinpoche also will introduce a series of 24-hour meditation and mantra recitation sessions, which will take place online via Zoom during each subsequent full moon of 2020.
Únete a nuestra comunidad